SECCHI EUVI
Calibration Status: Software Notes
SECCHI Consortium Meeting, Meudon 2008

Jean-Pierre Wuelser
Nariaki Nitta
LMSAL

EUVI Status
Both EUVI telescopes perform extremely well

No hardware issues, no noticeable degradations

Topics

Entrance filter status
Calibration status

Spectral response
Flat fielding
Point spread function / diffraction patterns

Data analysis software
Observing programs
Entrance Filters
EUVI uses two thin film filters for IR/vis/UV rejection

Entrance filter at aperture, two types:

Aluminum + Polyimide on coarse grid (17.1 and 19.5)
Aluminum on fine mesh (28.4 and 30.4)

"Analysis" filter in filter wheel near focal plane
Normally, both filters are used in series

Entrance filter performance

Moderate light leaks in either filter have negligible effect on overall instrument performance
Interest in long-term robustness of two filter types
Occasionally take images with analysis filter swapped out of path (OPEN filter wheel position)
Entrance Filter Trends - Ahead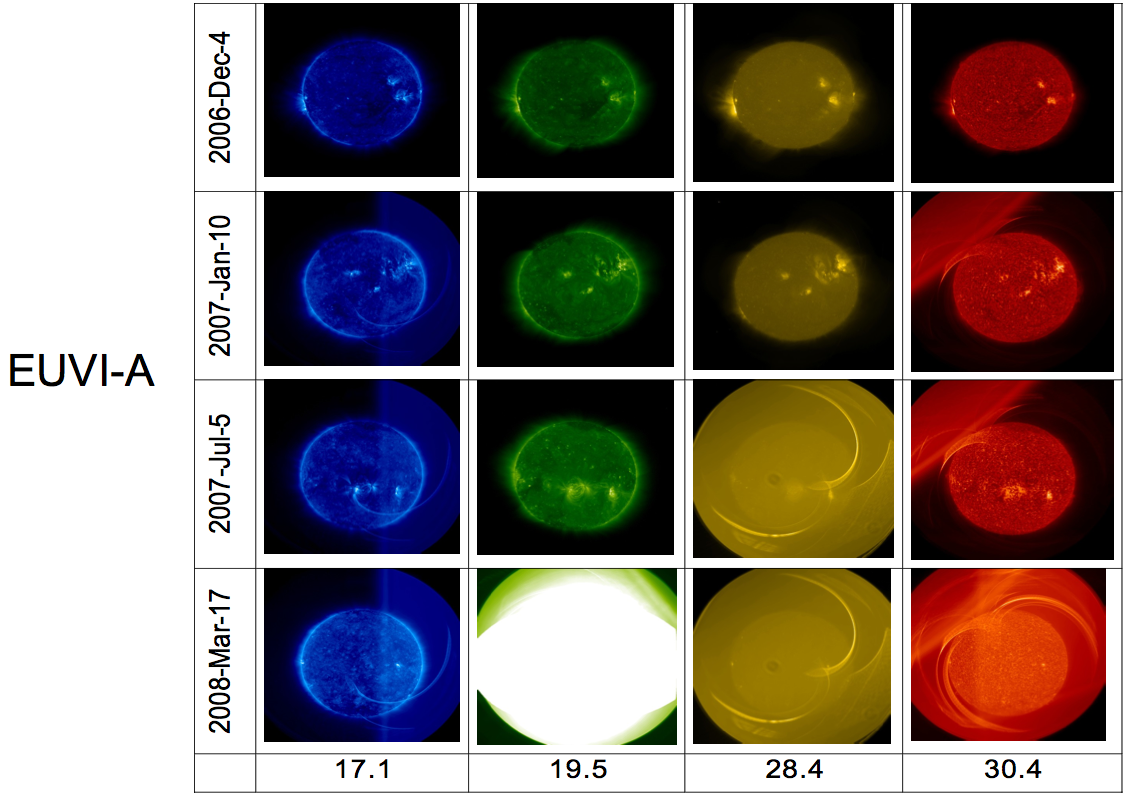 Entrance Filter Trends - Behind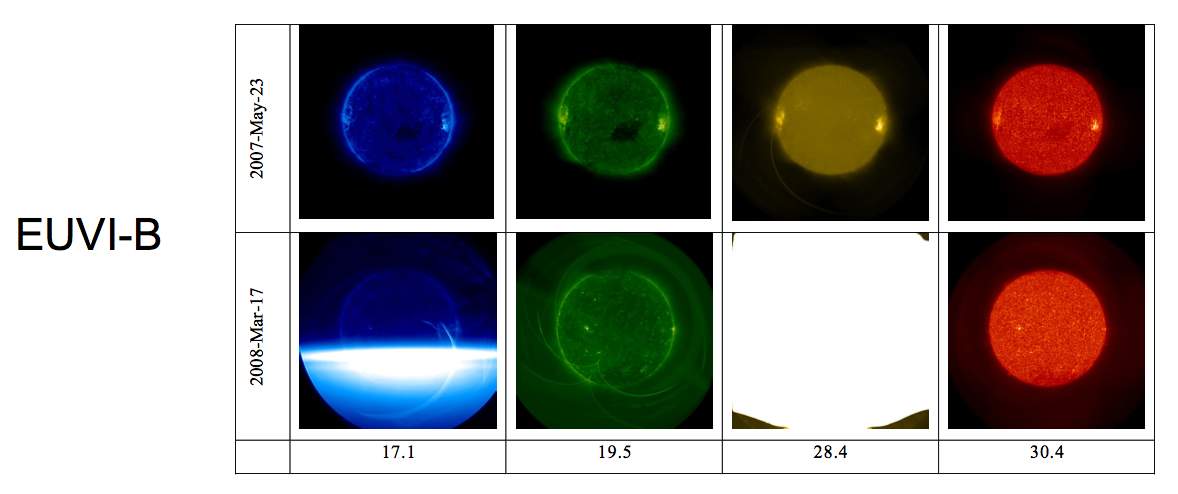 Entrance Filters - Summary
All entrance filters survived launch in pristine condition
By March 2008, all entrance filters show some light leaks, mostly at very low levels
Stray light pattern consistent with one or a few pinholes
Pinholes exist in both types of entrace filters
Worst cases: EUVI-A-195 and EUVI-B-284

Compatible with pinhole diameter of small fraction of a mm

Light leak level has no impact on quality of normal observations

Standard filter in filter wheel completely suppresses residual white light
Spectral Response - Effective Area
Prelaunch transmission measurements of entrance filters
Prelaunch synchrotron calibration of mirror pairs (IAS)
Prelaunch laboratory measurements of CCD QE
On-orbit transmission measurements of filter wheel filters
Predict response ratios A/B for all 4 channels
Compare with observed ratios A/B

Tweak transmission of EUVI-B entrance filters so that overall response matches observed ratios (adjustment between +4% and -19%)
Future work: cross calibrate with other experiments (suborbital rockets, SDO-EVE)?
Flat Fielding
Flat field at each wavelength based on 14 images taken at pseudo-random offpoint locations
Offpoint amplitudes limited to < +/-2 arcmin (GT range)
Reduction method: Johnchul Chae (Solar Phys. 221, 15)
"Raw" flats:

Reveal shadowing by mesh in filter wheel filter
Faint residual solar image
Noisy near edge of field (due to low photon counts)

Processed flats: Mesh-shadowing only

Fourier domain filtering
Peak-peak amplitude: 4% of signal (<< than EIT)
"Raw" Flat (EUVI-B @ 171)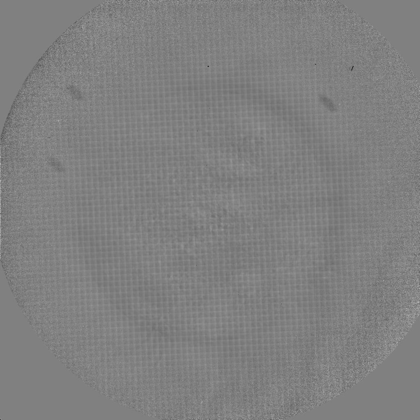 Processed: Mesh-Shadowing Only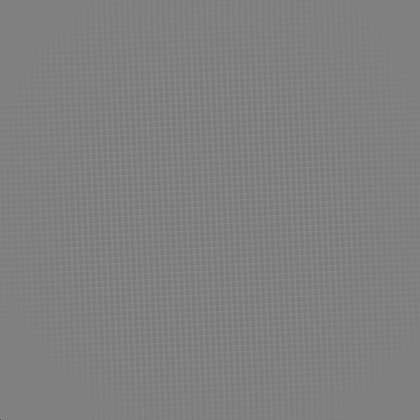 Flat Fielding Status
Preliminary Flats:
171 and 304 on Ahead and Behind

195 and 284 require future offpoint observations

Flats now in SolarSoft distribution:

$SECCHI_CAL/20080416_*fCeu?.fts
"Raw" (_raw*) and processed (_grd*)

files are actually 1/flat for use in secchi_prep

Usage

secchi_prep does not use flats by default
Not needed in many cases
Use processed flats to remove shadowing, if required: secchi_prep, ..., calimg_filename='$SECCHI_CAL/...
Point Spread Function

Observed edge profile of the moon for EUVI-B during lunar transit
Overal PSF compatible with combination of diffraction at entrance filter mesh/grid, and PSF core with Voigt prfile
PSF - Diffraction at Entrance Filter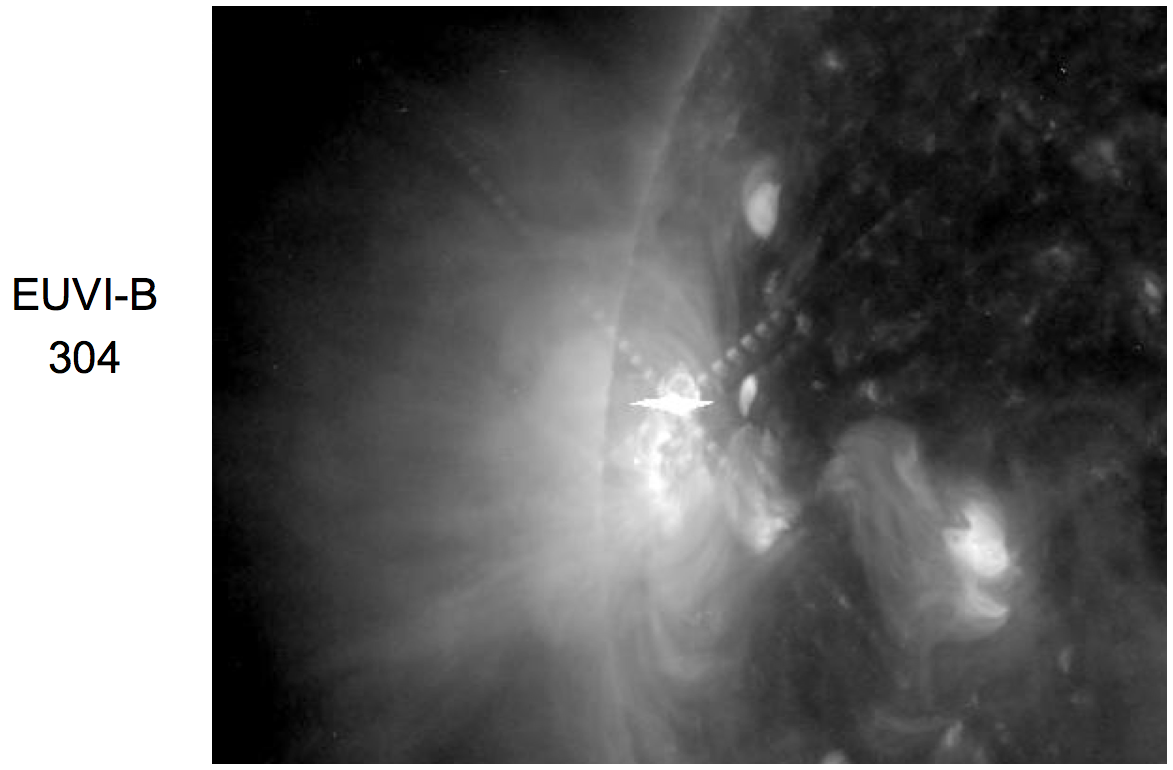 PSF - Results
Diffraction pattern at 284 & 304

Mesh type entrace filters (like TRACE)
Well separated diffraction orders, extended pattern

Diffraction pattern at 171 & 195

Entrace filter on 5mm grid (like EIT)
Diffraction orders unresolved, localized pattern

PSF core: reasonably well described by Voigt profile
EUVI_PSF.PRO (SolarSoft)

Best-estimate PSF for each wavelength and telescope
PSF properties (diffraction pattern period, orientation, amplitude) based on fit to observations
PSF - Lunar transit EUVI-B @ 304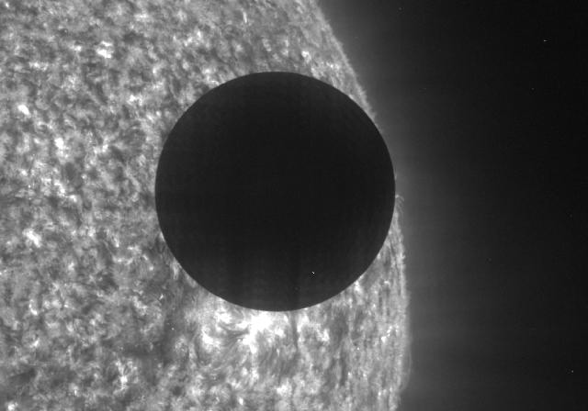 304 Image Deconvolved with PSF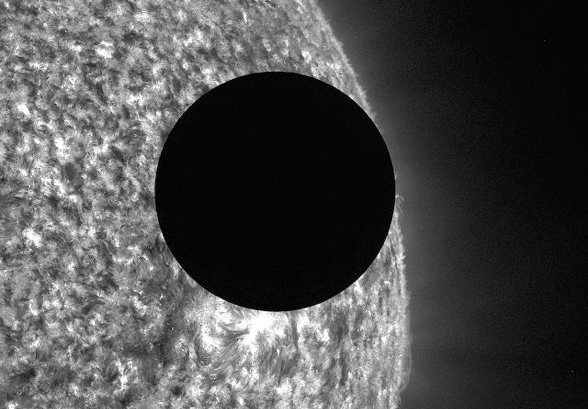 Data Analysis Software SECCHI_PREP
Important SECCHI_PREP keywords:
/PRECOMMCORRECT_ON for some old FIT files
/NORMAL_OFF : don't try to "normalize" to the OPEN filter wheel position. Definitely set this you want to compare to output of euvi_flux!!
/DN2P_OFF : don't convert DN to number of photons
/EXPTIME_OFF : don't exposure normalize
/CALIMG_OFF : don't multiply with cal. image (1/flat). Currently using dummy cal.image(all 1). Setting this may save time.
calimg_filename = '...' : point to processed flat to remove mesh shadowing (only if needed, may introduce noise)
Spectral Response Data & Software
Effective area
setenv,'EUVI_RESPONSE='+getenv('SECCHI_CAL')+'/euvi_response' restgenx,file='$EUVI_RESPONSE/ahead_sra_001.geny',a
a.lambda[n], a.area[n,4,4]

for 4 channels (a.wavelnth) x 4 filters (a.filter)

Temperature response
flux = euvi_flux(T, index)

Reads flux data files (instrument effective area folded with Chianti spectra for range of temperatures)
Keywords: /photons, /Feldman, /Apec (see documentation header)
Routines in "sbrowser" ssw package:
Scale and co-align image arrays for 3D work
wcs = fitshead2wcs(index)
disp = {naxis:[480L,640L],delt_1:200.,rpix:[240.,320.], $
rval:[-90.,20.,1.],carr:0}
image = sb_gtrans(image,wcs,disp=disp)
disp controls transformation: put location at rval [longitude,latitude,dist_from_suncenter_in_rsun] into pixel at rpix, using platescale of delt_1 pixels per solar radius. carr: 0=heliographic(earth), 1=carrington Ion.
Keywords:

/helio : put solar N up (default: ecliptic N up)
/sc : put plane betw. S/C horizontal. Requires swcs=wcs_of_other_observatory
interp: 0=force nearest neighbor, 1=force bilinear, 2=force cubic
Byte scaling of images
col = {min:0.,max:1e3,gam:0.5}
bytimage = sb_bytscl(image,col)

Scales intensity values between min and max in original image into 0-255
positive gam: classical gamma, e.g. 0.5=square root
negative game: log scaling: evenly scale abs(gam) orders of magnitude into 0-255
if min eq -max: scale symmetrically about zero

sbrowser: EUVI image browser

supports TRACE besides MDI and EIT
includes simple tie-point tool suitable for 3D displays
for general browser, use FESTIVAL (better support)
Notes on Data Analysis Software
EUVI Movies
3-D movie: ssw routine to create series of frames:
ts = '2007-05-16T16:00'
te = '2007-06-16T18:00'

disp : see notes for sb_gtrans lut = # of color table entry (in sb_colors1.tbl)
Example 1: Anaglyph movie in 171
euvi_movieframes,ts,te,'outdir', $
naxis=disp.naxis,delt_1=disp.delt_1,rval=disp.rval, $
obs=['a','b'],wave=[171,171],lut=[7,5] ; 7=cyan,5=red
Example 2: A/B side-by-side, 3 wavelength overlay
euvi_movieframes,ts,te,'outdir', /TWOPANEL, $
naxis=disp.naxis,delt_1=disp.delt_1,rval=disp.rval, $
wave=[171,195,284],lut=[1,2,3] ; 1-4:"standard" EIT tables
Use tool such as QuickTime Pro to create movie file
Observing Programs (1)
Current synoptic program (24 hours/day):

171 : 2-4 sec exp. 2.5 min cadence ICER6
195 : 8-16 sec exp. 10 min cadence ICER5
284 : 32 sec exp. 20 min cadence ICER6
304 : 4 sec exp. 10 min cadence ICER5
Every 2 hours:

Deep (16 sec) 171 exposure, ICER4
Lower compression in 195, 304 (ICER4)

Every 24 hours:

Lossless exposure at all wavelengths

During unusually long interval between DSN tracks:

Reduce 171 cadence to 5 min
Observing Programs (2)
SSR2 (ring buffer) program (~3 hours/day)

Higher cadence at all wavelengths
Normally use with CME trigger on Cor2:

Trigger freezes ~3 hour contents of SSR2

High 171 cadence was critical for 3D work at small separation angles during dynamic events
Science at larger separation angles may warrant putting other wavelengths into the high cadence slot (195, etc.)