SECCHI EUVI Software Notes
SECCHI_PREP Defaults for EUVI (1)
By default, SECCHI_PREP applies a set of corrections:
Trim non-imaging pixels
Subtract bias
Divide by exposure time (in seconds)
Normalize to the "open" filter wheel position
Convert DN to number of photons
Comments:
The first two (trim and bias) are almost always desirable
Exposure time correction is often useful (e.g. for movies)
Normalizing to "open" is rather arbitrary (EIT "heritage")
Conversion to photons is useful for photon statistics
- Less useful with normalization to "open"

SECCHI_PREP Keyword Examples
Example 1: basic near-raw images (just bias removed):
/normal_off, /exptime_off, /dn2p_off
Example 2: exposure time corrected (1 sec exp. equiv.):
/normal_off, /dn2p_off
Example 3: convert to number of photons per pixel:
/normal_off, /exptime_off
Notes:
/calfac_off is a synonym for /dn2p_off
/precommcorrect_on should not be necessary anymore
euvi_prep is a lower level routine (does not trim)
Despiking (Cosmic Ray Removal)
Keyword /cosmic_on in secchi_prep does nothing yet
- Plan to implement the procedure below
For now, you can use despike_gen as follows
secchi_prep,file,d,i,/normal_off,/dn2p_off,/exptime_off
d = despike_gen(d,tn=8)
Notes:
- The parameter tn=8 works fairly well for images that have not been re-scaled in secchi_prep (as above)
- In bad cases, repeat the step: d=despike_gen(d,tn=8)
Flat Fielding, "De-gridding" (1)
Flat field at each wavelength based on 14 images taken at pseudo-random offpoint locations
"Raw" flats:
- Reveal shadowing by mesh in filter wheel filter
- Faint residual solar image
- Noisy near edge of field (due to low photon counts)

Processed flats: Mesh-shadowing only
- Peak-peak amplitude: 4% of signal (<< than EIT)
- Less noisy
"Raw" Flat (EUVI-B @ 171)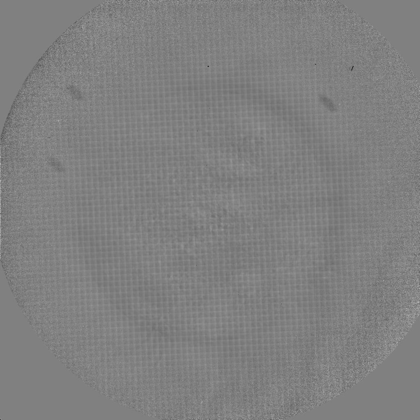 Processed: Mesh-Shadowing Only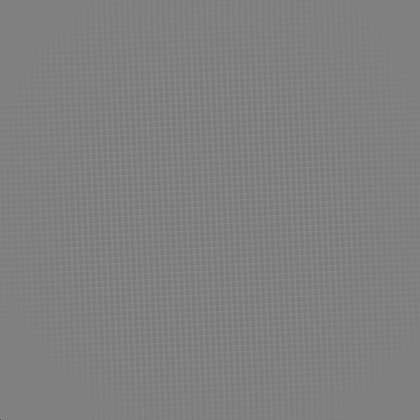 Flat Fielding, "De-gridding" (2)
Flat fielding often not neccessary or desirable:

CCDs have good cosmetics
Amplitude of mesh shadow ("grid") pattern is only 4%
Flat fielding can add noise, especially far off-disk

SolarSoft currently has flats for 171 and 304:

$SECCHI_CAL/20080416_*fCeu?.fts
"Raw" (_raw*) and processed (_grd*)
Flats for 195 and 284 are coming

By default, secchi_prep applies a dummy flat (/calimg_off turns it off)
To apply, e.g., a processed flat for EUVI-Behind 304:
calfile = 'SECCHI_CAL/20080416_grd304_fCeuB.fts'
secchi_prep,...,calimg_filename=calfile
Image Deconvolution with PSF
SolarSoft routine euvi_psf.pro creates a best-estimate PSF for any given telescope (A or B) and wavelength

PSF includes both a core (from lunar transit results) and extended wings (diffraction model fitted to flare observations)
Use: psf = euvi_psf(2048,image_hdr)

Direct deconvolution of 2k x 2k image:
fft_psf = fft(shift(euvi_psf(2048,hdr),-1024,-1024),1)
image_deconv = float(fft(fft(image,1)/fft_psf,-1))

Result somewhat noisy, enhanced cosmic ray hits

MEM deconvolution with image_deconvolve (T. Metcalf)

Reduces noise and cosmic rays; slow
304 Image Deconvolved with PSF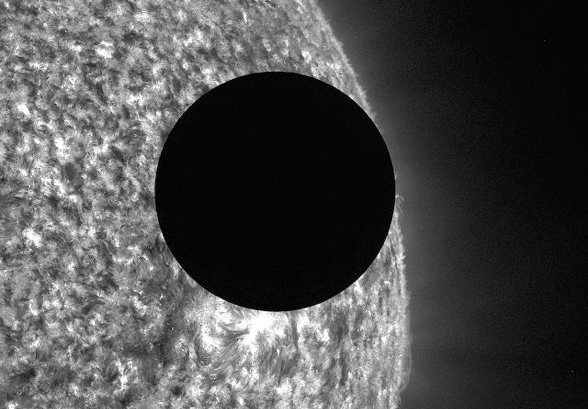 Scaling, Aligning, etc.
Routines in "sbrowser" ssw package:
Scale and co-align image arrays for 3D work
wcs = fitshead2wcs(index)
disp = {naxis:[480L,640L],delt_1:200.,rpix:[240.,320.], $
rval:[-90.,20.,1.],carr:0}
image = sb_gtrans(image,wcs,disp=disp)
disp controls transformation: put location at rval [longitude,latitude,dist_from_suncenter_in_rsun] into pixel at rpix, using platescale of delt_1 pixels per solar radius. carr: 0=heliographic(earth), 1=carrington lon.
Keywords:

/helio : put solar N up (default: ecliptic N up)
/sc : put plane betw. S/C horizontal. Requires swcs=wcs_of_other_observatory
interp: 0=force nearest neighbor, 1=force bilinear, 2=force cubic
Intensity Scaling, Display
Byte scaling of images
col = {min:0.,max:1e3,gam:0.5}
bytimage = sb_bytscl(image,col)

Scales intensity values between min and max in original image into 0-255
positive gam: classical gamma, e.g. 0.5=square root
negative game: log scaling: evenly scale abs(gam) orders of magnitude into 0-255
if min eq -max: scale symmetrically about zero

sbrowser: EUVI image browser

supports TRACE besides MDI and EIT
includes simple tie-point tool suitable for 3D displays
for general browser, use FESTIVAL (better support)
EUVI Movies
3-D movie: ssw routine to create series of frames:
ts = '2007-05-16T16:00'
te = '2007-06-16T18:00'

disp : see notes for sb_gtrans
lut = # of color table entry (in sb_colors1.tbl)
Example 1: Anaglyph movie in 171
euvi_movieframes,ts,te,'outdir', $
naxis=disp.naxis,delt_1=disp.delt_1,rval=disp.rval, $
obs=['a','b'],wave=[171,171],lut=[7,5] ; 7=cyan,5=red
Example 2: A/B side-by-side, 3 wavelength overlay
euvi_movieframes,ts,te,'outdir', /TWOPANEL, $
naxis=disp.naxis,delt_1=disp.delt_1,rval=disp.rval, $
wave=[171,195,284],lut=[1,2,3] ; 1-4:"standard" EIT tables
Use tool such as QuickTime Pro to create movie file
Spectral Response Data & Software
Effective area
setenv,'EUVI_RESPONSE='+getenv('SECCHI_CAL')+'/euvi_response'
restgenx,file='$EUVI_RESPONSE/ahead_sra_001.geny',a
a.lambda[n], a.area[n,4,4]

for 4 channels (a.wavelnth) x 4 filters (a.filter)

Temperature response
flux = euvi_flux(T, index)

Reads flux data files (instrument effective area folded with Chianti spectra for range of temperatures)

Keywords: /photons, /Feldman, /Apec (see documentation header)
Use secchi_prep with /normal_off for any response work